Hey readers!! I hope everybody got to take advantage of the sale and stocked up on some goodies!! To continue our birthday celebration I have a new kit, a FREEBIE for a few more hours, and SSD has a new promo!!
I love our new Spend 15/20 kit promo! One of my faves we've ever created for y'all!This week I created this bright fun kit to kinda spunk up my mood. I love the quotes in here. Obviously that was the inspiration behind this kit. My CT rocked their LOs and I can't wait to see what you create with it as well!
It's a new month so that means a new featured designer freebie!! From now til the 15th when you spend $10 you get these fun templates from Janet Phillips! Read her featured
post HERE
and get to know her and her designs a little better!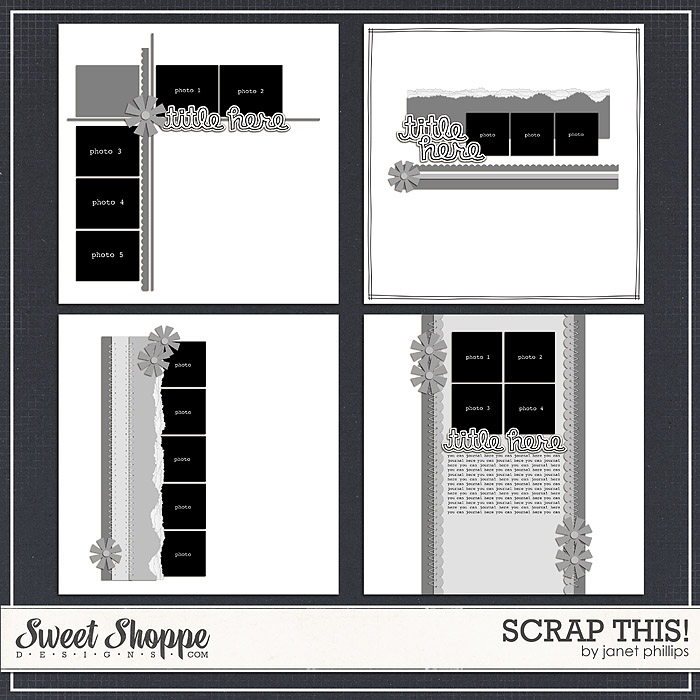 We have section of the shoppe called Sweet Freebies. Each designer now has a small freebie sampling of their work for you to try before buying and this is my cureent freebie! Enjoy!
Have you seen the new
Bargain Bites
section of the shoppe? We've done away with the overwhelming Penny Candy category in the shoppe and now bring you a
Bargain Bites
area where older goods will be rotating every few weeks and will be 40% off. Right now I have these two products available for a discount!
Make sure to check back every few weeks for different kits on discount!
For additional freebies of my work check out my
facebook page
. I have an exclusive freebie every month so you have quite a few chances to get some exclusive goods from me for FREE!
Don't forget to check
the forum
daily during the week for a FREE birthday gift from us to you!!
Today is my day so make sure to grab the goodie
HERE
!!
That's it from me this week!! See ya next week with some more fun bday shenanigans!!
Keep scrapping those memories <3